The Biden administration will end the COVID-19 national emergency on May 11, the White House has announced, a signal that it feels that the pandemic crisis is resolving. With apologies to astronaut Neil Armstrong, that's one step backward for public health, a giant leap for politics.
Reported COVID cases are still almost 300,000 per week, and the real numbers are surely at least several times that. Every infection generates replication of the virus and the appearance of new mutants, all of which are subjected to Darwinian evolution's selection of the "fittest" and are candidates for becoming new "variants of concern." No one can predict with any confidence what will happen over the next three or four months. Biden and his minions are whistling past the graveyard. Literally.
Although most people who get COVID recover within a few days or, at most, weeks, we cannot ignore that this infection has already killed some 1.1 million Americans, and the death toll is currently about 3,500 per week. In addition, even those who have only mild infections can experience "long COVID," which is marked by persistent, sometimes debilitating symptoms that last for months or even years following the acute infection.
According to a recent article in Nature Reviews Microbiology by Scripps Research's Dr. Eric Topol and coworkers:
At least 65 million individuals around the world have long COVID, based on a conservative estimated incidence of 10% of infected people and more than 651 million documented COVID-19 cases worldwide; the number is likely much higher due to many undocumented cases. The incidence is estimated at 10–30% of non-hospitalized cases, 50–70% of hospitalized cases and 10–12% of vaccinated cases.
A peer-reviewed study published on Jan. 26 found that the prevalence of long COVID was "36% among George Washington University students, faculty, staff and other members of the campus community who had tested positive for COVID-19 between July 2021 and March 2022." Long COVID was more prevalent among people who had underlying conditions, who were not fully vaccinated, who were former or current smokers, or who had experienced symptoms during the acute infection.
The largest number of long COVID cases nationwide are in non-hospitalized patients who have experienced a mild acute illness – not because they are more susceptible, but simply because this population represents, by far, the majority of overall COVID-19 cases.
The most common long COVID symptoms and the pathological damage responsible for them are shown in this figure, from the Topol et al article: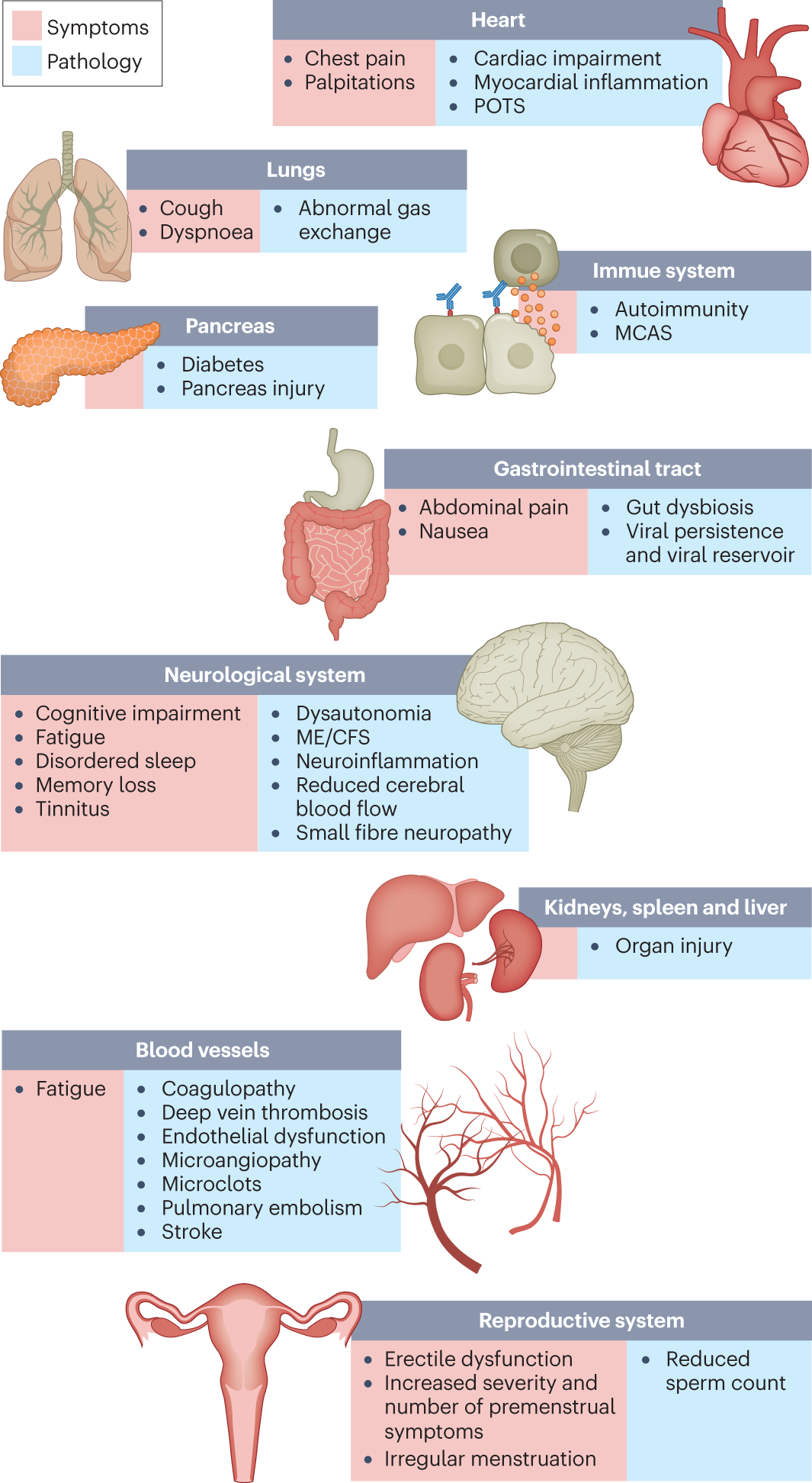 From Topol et al, https://www.nature.com/articles/s41579-022-00846-2.
This bodes ill for many Americans in the short and long term. As the number of infections continues to climb, so will cases of long COVID, often causing prolonged pain and suffering so severe that those affected are unable to work; it is thought that there are already perhaps a million such people in the U.S.
In addition, as shown in the figure below, the CDC has identified various new conditions related to COVID infection that "might be related to their previous COVID-19 illness." They include neurological and mental health conditions, renal failure, musculoskeletal conditions, cardiovascular abnormalities, respiratory conditions, and blood clots and vascular abnormalities. Think of it as long COVID on steroids.
Inasmuch as those diseases and conditions are some of the major causes of mortality among Americans, not surprisingly we are seeing elevated numbers of "excess deaths" in the U.S. population — deaths above the numbers predicted from historical data.
A recent study by scientists at the CDC's National Center for Health Statistics took a \ore direct approach to estimating the number of deaths from long COVID. They searched death certificate data from the National Vital Statistics System for deaths that occurred in the United States between Jan. 1, 2020, and June 30, 2022, using keywords PASC (post-acute sequelae of COVID-19) or long COVID and death.
During that period, "about 3,544 COVID-19 death certificates, or 0.3%," mentioned long COVID as an underlying or contributing cause of death. "The age-adjusted death rate for long COVID was 6.3 per 1 million population for the 12 months ending in June 2022."
Those numbers are small compared to the overall death toll from COVID of 1.1 million, but they are likely a significant underestimate, inasmuch as especially during the early part of the study period, many physicians filling out death certificates were probably unaware of long COVID. As Farida Ahmad, the lead investigator, said "with something like long COVID, I mean even clinically it's hard to define and diagnose, then you get to how to write that on the death certificate or how to determine if it played a role in the death. A lot of this is subjective to the doctor who's writing it."
This CDC study serves as a reminder that COVID is a killer, short, medium, and long term – a message that Americans need to hear and heed.
"The best way not to have long COVID is not to have COVID at all," says Dr. Leora Horwitz, a professor of population health and medicine at New York University's Grossman School of Medicine. A high-quality mask lowers the probability of infection by any respiratory virus, and vaccination reduces the likelihood of severe illness, hospitalization, and death in those who do become infected.
However, mask-wearing is increasingly rare; only about two–thirds of Americans have had the primary series of two vaccinations, and the effectiveness of those shots has waned significantly with the passage of time and the appearance of new virus variants. Only about 16% of those eligible have had the updated bivalent booster that offers the strongest protection against known variants. That is especially unfortunate, given recent encouraging data that demonstrate the effectiveness of the mRNA vaccines.
In a large Israeli study of more than 700,000 participants age 65 and older who either had the bivalent vaccine or did not, there was an 81% reduction of COVID hospitalizations and an 86% reduction of deaths. During the 70-day study period, there were 73 deaths in the control group (who had not had the bivalent booster) versus one in a person who received it (among approximately 622,000 and 85,000 seniors, respectively). The results of two CDC studies published last year were similar.
Topol is correct that "[t]he bivalent booster impact of broadening our immune response has exceeded expectations." All the data, as well as common sense, argue for a full-court press to convince skeptical Americans to get the bivalent booster and also to wear masks in moderate- and high-risk situations.
Throughout the pandemic, the death rate in the U.S. has been the worst among developed, industrialized countries, and long COVID is taking a toll on our workforce and health care institutions. We can and must do better.
Henry I. Miller, a physician and molecular biologist, is the Glenn Swogger Distinguished Fellow at the American Council on Science and Health. He was the founding director of the FDA's Office of Biotechnology. Find Henry on Twitter @henryimiller.